Gyzis, one of Greece's most important 19th-century painters was a characteristic representative of the Academic Realism, and in particular of the so-called "Munich School", the major 19th-century Greek art movement.
During his artistic career, Gyzis had produced a significant number of still life paintings, depicting food, pastry and kitchen utensils, fruits, meat, fish, bread, pastry sweets, as well as plates, pots, trays, jugs, bottles etc.
He often used to place luxurious elements, such as silver trays, next to food themes in order to symbolize prosperity, since such paintings were normally destined to decorate dining rooms of the bourgeois class.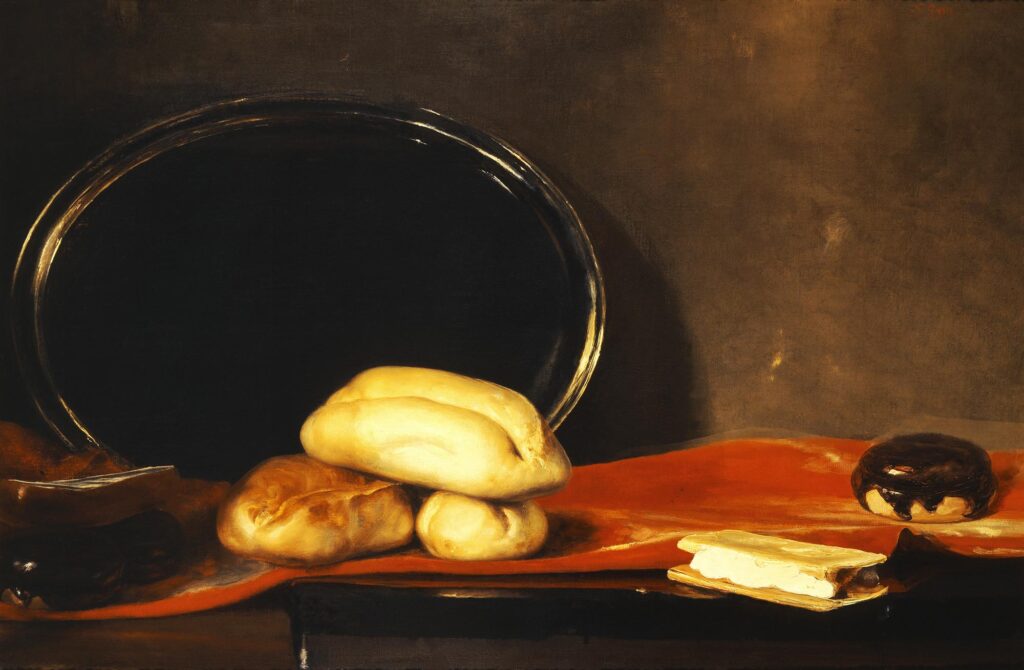 He generally showed his skills on using light to accentuate what he wanted, bringing all the attention to the main theme and leaving the rest of the painting in dark.
We can see an example of his technique at the following painting with fish!
Other times, Gyzis dealt with elements not so bright, like enameled ceramic serving dishes.
Many of his themes contained pastry, not so common in other Greek painters' still lives.
What seems quite impressive are the details of his pastry paintings, like the glaze on sweets, brioches and breads, as well as their perfect forms, that reveal a thorough study and knowledge of the pastry and bakery principles.
Here, for example, we can see next to the quinces, some perfectly shaped cinnamon rolls with a nice frosting on top!
He certainly must have loved pastry products!!
Fruits were also a theme he was fond of, as we can see on this depiction of plums.
One of my favorite Gyzis' works, is the Pastry man, painted on 1898.
There, the painter depicts in a very tender way, how the pastry boy struggles to keep intact the cake and the bottle of wine he is carrying, that is slipping from his hand. The agony in his face, while trying to do so, along with the costume and the rest of the scene's details, create a strong theatrical atmosphere.
His works are today exhibited at museums and private collections in Greece, Germany and elsewhere. We can find a wide collection of them at the National Gallery of Athens.
Nikolaos Gyzis is considered one of the best Greek painters of all time. A central district of Athens and numerous Greek streets and squares have his name.