Torta Piemontese or Tarta de Santiago? … Something in between!
---
ingredients for 6 generous servings (total cost about 9€ with organic ingredients)
200 g (4 medium) eggs
160 g sugar
100 g hazelnuts + 50 g for decoration
100 g almonds + 50 g for decoration
¼ tsp salt
a pinch of cream of tartar
icing sugar to sprinkle
---
My dear friend Dimosthenis always offers me his magnificent nuts, whenever I visit him at the Organic Market. This time he gave me some marvelous hazelnuts and almonds. So I promised him, that I would make a cake with them.
– What ingredients would you like me to use? I asked him.
–Well, I will make it hard on you. I 'd rather tell you what not to use. Can you make it without fat and flour?
-Of course. What about eggs?
-I don' t mind.
(Hmm! I could make an Almond Santiago Cake, I thought. Or maybe a Hazelunt Piemontese?)
– What do you prefer, hazelnuts or almonds, I finally asked.
–Why not use them both?
-What a brilliant idea!!!!
The Santiago Cake (Tarta de Santiago), is a traditional dessert of the Galician cuisine, originated, obviously, from Santiago de Compostela. It consists mainly of almonds, sugar and eggs in an equal ratio and does not contain flour, nore dairy products (only a little butter for the mold greasing, which can be perfectly substituted by vegetable oil), making it perfect for the intolerants. It has a persistent nutty flavour and a grainy and juicy texture, due to the nut flour, which retains the moisture.
The Piemontese Cake (Torta Piemontese), is more or less the same cake (in one of its numerous versions), but with hazelnuts, instead of almonds. In its original version, it is made with the notorious hazelnuts of Piemonte, the "Nocciole Trilobate Piemontesi", or "Tonda Gentile delle Langhe"!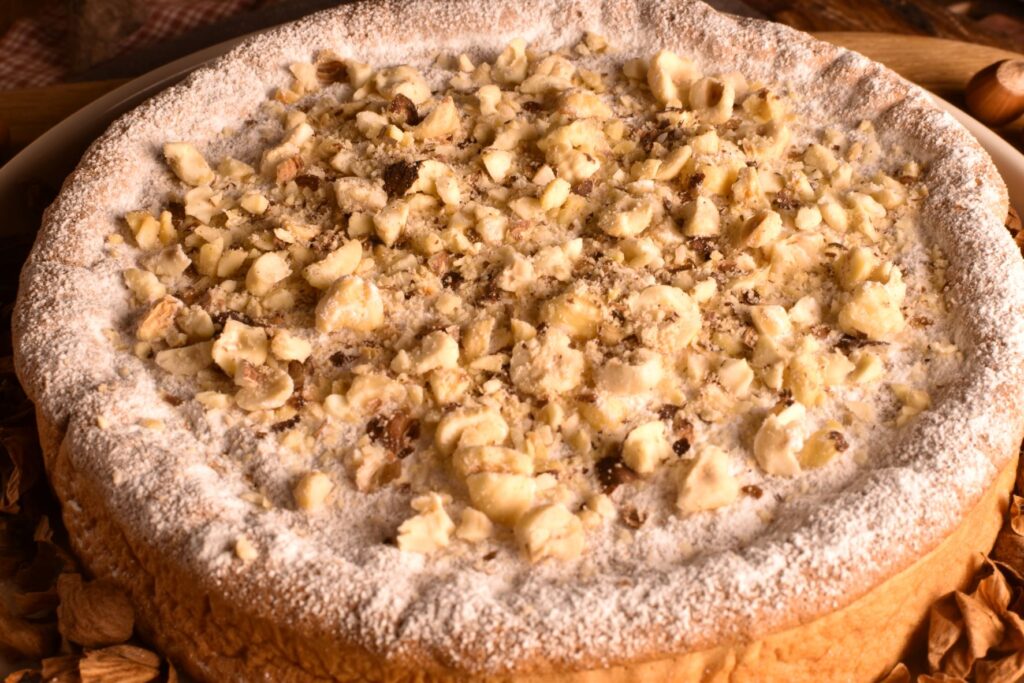 So, to make our mixed hazelnut-almond version, we first of all have to slightly toast to bring out their oils and aromas and then to grind them. But before that we need to blanch the almonds in boiling water for 1 minute in order to easily remove their peel. We then spread each of the nuts on 2 baking sheets and toast them in the oven at max 170 C static function for about 13 – 15 min, depending on their size, initial moisture level and freshness. As soon as we take them out of the oven, we let them cool a bit, then we gently rub the hazelnuts between our palms to get rid of their thin peel.
In a food processor we finely grind 100 g of each of the cooled nuts in batches, adding 1 tsp of the sugar for each nut (to draw the nuts' moisture). Then in a mixing bowl we mix the two powders to combine. We coarsely chop the rest 50 g of each of the nuts and we keep them for the final decoration.
We butter very well a round cake tin and line its bottom and sides with parchment paper. In this case, I used a 22 cm diameter X 3 cm height round tin. After lining the tin with the paper we butter again, taking care not to leave spots without lubrication and we sprinkle with flour all over, rolling the form to coat well all the inside surface and tapping off the excess flour.
We separate the yolks from the whites and we divide the sugar in ¾ and ¼. In a bowl using a hand mixer we beat the yolks with the ¾ of the sugar and the salt, until they become pale white and fluffy. We gently fold in the ground nuts. The mixture will be rather stiff and dry at this point.
In the stand mixer we whisk the egg whites with a pinch of cream of tartar on medium low speed until foamy, we increase the speed to medium high and we whip the eggs to soft mounds about 1 minute. We gradually add the remaining sugar, continuing to whip, until glossy and rather stiff peaks form (about to 2 min). We mix ¼ of the whipped whites into the yolks and nuts mixture to lighten it, then with a spatula we gently fold in the remaining eggs whites in three batches, being careful not to deflate them.
We gently spoon the batter into the prepared tin, then we run vertically a palette spatula or toothpick inside it to "break" any eventual large air pockets.
We bake in the medium lower part of a preheated oven at 175ºC (static function) for about 25 minutes, or until a tooth pick comes out ALMOST clean (NOT completely clean). If not ready by that time, we turn off the oven, and let it inside for another five minutes.
We UNMOLD the cake IMMEDIATTELY, otherwise the steam underneath will deflate it. We place on a wire rack and let it cool completely. When cool, we sprinkle it with the icing sugar and the kept mixture of roasted and coarsely chopped hazelnuts and almonds.
One last thing. Keep in mind that if you want to use a smaller or larger tin, then for every 2 cm of diameter, remove or add one egg respectively and adjust the amount of the rest of the ingredients. Remember to reduce or prolong the baking time respectively for 5 minutes.