– Have you ever eaten a bruschetta? Did you like it? I imagine that yes.
I have a totally different opinion. I consider bruschetta one of the worst moments in Italian cuisine. First of all, one cannot eat it without getting dirty. It is impossible. Second, I consider the quantity of tomato excessive. Too much humidity. Third, the Italians discard the tastiest part of the tomato, the jelly, and they only use the less tasty flesh.
– What the fuck are you talking about, our topic is not the bruschetta.
– Well, actually, I wanted to tell you that in Catalonia, where we are, we can eat a much better version of the combination bread – tomato. The "pa amb tomàquet", or simply, the bread with tomato. In the Catalan version of the snack the tomato is minimal, just as it needs to humidify and make the stale bread easy to eat.
–And where can we eat "pa amb tomàquet" in Olot?
– Everywhere. In Olot there are very good restaurants, La Deu, La quinta justa, La barra d´ en Regué and, above all, the excellent restaurant "Ramon", one of the most particular restaurants ever seen.
Why? Because the raw materials of the resto have the personal care of the owner, Josep Maria.
Josep Maria goes to the forests to pick up wild mushrooms. Josep Maria goes to the rivers to catch fish. Josep Maria goes to the mountains to hunt wild animals. And all these delicious things are cooked by Josep Maria´s wife.
I'll never forget the "wild mushrooms with baby squids" or the "cod leeks with Santa Pau beans" eaten there.
– By the way, what are these Santa Pau beans?
-I'll explain to you. Catch your car and drive just 9 kilometres to Santa Pau, direction Banyoles. But, I´ m warning you, you re gonna need, at least half a day.
-Half a day for 9 kms? It must be a dirt road …….
– No, the road is perfect but you have to do three obligatory stops. First of all, you have to walk at "La fageda d´ en Jordà", Jordan´s beech forest in English. La fageda is a magnificent place with many activities. There you can hire a horse carriage and cross the whole forest, like John Wayne did. And without the danger to be killed by bandits.
La fageda is very popular in Catalonia. Avoid going there during week ends, it´s extremely crowded and you'll loose the magic of calm and silence.
-What´s next?
– Two kilometres after la Fageda, you can find el Volcà de Santa Margarida (Sainte Margaret volcano). Leave your car at the parking, take your walking sticks and start climbing to the top of the hill. It´s an opportunity for you to loose some grams and limit your belly. If you know how to collect mushrooms, take a basket and a knife with you, the place is full of wild mushrooms.
Reaching the top of the hill you'll see something special. A small church is built in the old crater, which nowadays is green and beautiful. The perfect place to relax. Stay near the church, close your eyes and listen to thousands of birds and other forest sounds. I love Sainte Margaret volcano, I always go, when I visit Olot.
–I am still waiting for the beans.
-A couple of kilometres further you will find Santa Pau, a beautiful village where they produce the best beans ever tasted. But Santa Pau is not only about beans, it is a very pleasant place to walk, to shop some souvenirs and to eat very well. I always love to try the products, where they are made.
So, Santa Pau beans are unique because of the volcanic soil where they are cultivated. They have a thin skin and a low percentage of starch, properties that give them a unique creamy texture and make them very easy to boil. When you visit the village, buy as much as you can (the organic ones are even better), you won´t regret it.
-I imagine that the Santa Pau beans are the culinary jewel of the district.
-Yeap. Actually, there is another speciality in the area, the Olot potatoes (les patates d´ Olot), potatoes stuffed with a meat mixture and then fried. It´s something like a fried raviolo of potatoes.
–You have not yet talked about them, I imagine you don´t like them a lot …..
– Well, I told you that I cannot realize how the Italians eat bruschette, an unfortunate concept. I have the same opinion about the Olot potatoes. I find no reason to fill the potatoes with meat and then fry them.
So, if you are hungry, omit patates d´ Olot and eat one more portion of the magnificent wild mushrooms of Garrotxa forest. Ore some of its unique cold cuts. You'll miss them when you return home.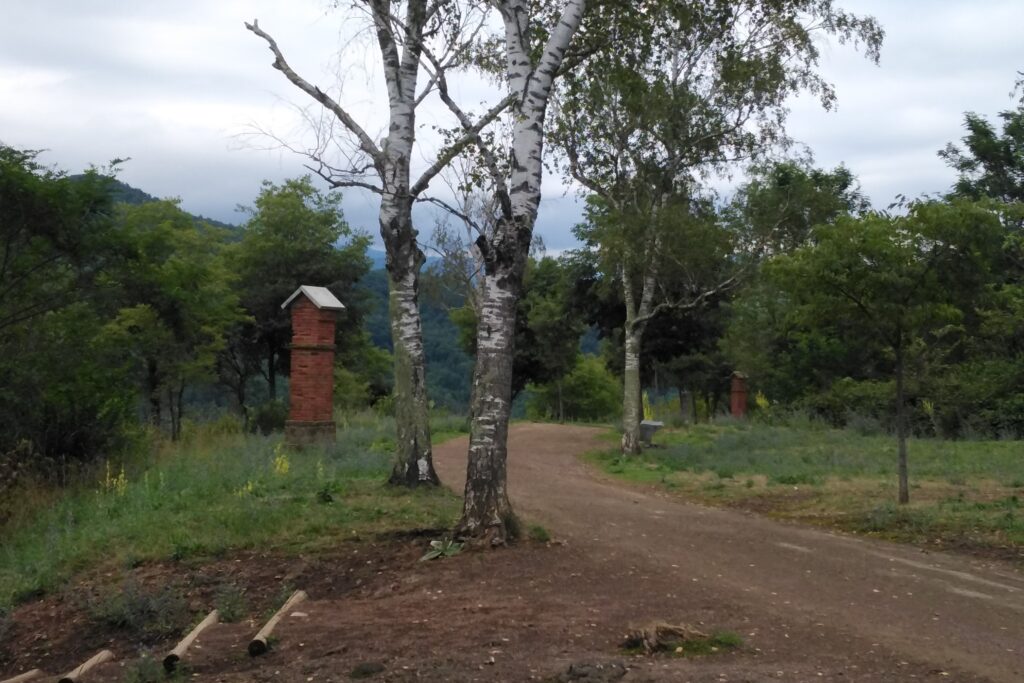 (to be continued)