Macerata is my second homeland. I have passed there almost 3 of my best years, studying law at the local university. Macerata is one of the hundreds of Italian towns which are more than beautiful, marvelous, extraordinary and one of the most beautiful towns in Marche, along with Ascoli Piceno and Pesaro.
Macerata is widely known for its university, its opera festival, its volleyball team and its lasagne dish, the famous vincisgrassi.
Many of you ignore even the existence of this Italian town, but the university of Macerata is the 9th older ones in the world, counting more than 800 years of life. Law department is considered one of the best and more difficult in Italy. The university is located on the central square of the town (piazza della libertà) and it has a very interesting library and a magnificent grand hall.
Next to the university, always on Piazza della libertà we find the municipal theatre (teatro Lauro Rossi). The theatre was build in 1765, in the same place where the old town hall was located and later it took the name of the famous Maceratese compositor Lauro Rossi. A very strange characteristic of the theatre is that, although it is almost totally made of marble, the marble is warm to the touch and not cold, as one would expect!!!
Every summer Macerata attracts thousands of tourists who want to attend the local Opera Festival, an annual event which already counts 100 years of life. Mega stars of the opera, such as Maria Callas, Placido Domingo etc. have participated at the festival, making this way the small Italian town (about 40.000 habitants) widely known all over the world.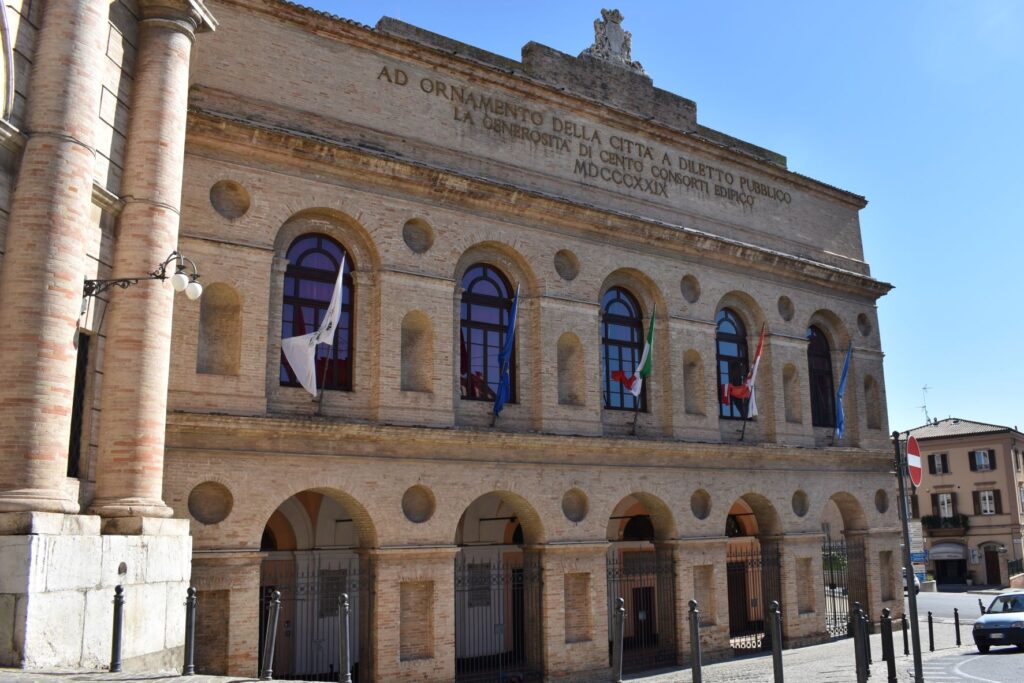 The concerts take place at the Lauro Rossi theatre and mainly at the Sferisterio, a magnificent open air theatre, which is found right at the center of the city. The Sferisterio is an ancient stadium of pallone con bracciale, the most popular sport in Italy for more than 5 centuries. It was is transformed to opera theatre in 1921, when the local festival started. It holds an audience of more than 3.000 spectators and a very large stage of about 40 meters.
The Santa Maria of Misericordia is probably the most beautiful of Macerata churches. It was initially built during the 15th century but it was later totally renewed by the famous Italian architect Luigi Vanvitelli. Although it is not a large church, it contains magnificent afrescos (wall paintings), made by local painters.
Every year since 1978, a pilgrimage from Macerata to Loreto (about 27 km away) takes place on the first Saturday of June. The pilgrimage attracts about 100.000 believers each year. Overnight, participants are led through the hills along a road traditionally held to be a Marian path. The night march is guided and accompanied by recitations of the Rosary, songs, testimonies, meditations on the Word of God and the teachings of the Pope.
(to be continued)