– What the fuck is this strange word? How, exactly, is it pronounced? Garr……..
– Take it easy dude. This "strange" word is the name of a truly magnificent area, a unique place with a wild nature and many ………. volcanos.
Garrotxa is a district in Catalonia, very close to France. Its particularity has to do mostly with the humid weather and the volcanic soil, a combination that gives birth to extraordinary products, such as the Santa Pau beans, considered maybe the best beans in Europe.
Let start our tour arriving there by car, coming from the medieval town of Vic.
I hate tunnels. Maybe because I have poor eyesight and I find it difficult to drive when the ambient is dark. That's why when I go to Garrotxa I stay there for ……. days. Well, this is not the only way to reach that area but it is the faster one.
But when the tunnels finish, the view turns to breath taking. The Bass valley (Vall d' en Bas) lays among the mountains arriving to Olot, Garrotxa's capital.
The first village we find on the road to Olot is Les Preses, a beautiful flat place, ideal for walking and cycling. We can also take a lunch there. The Restaurant Can Morera on the main road is clean, cheap and dignified.
By the way, at Les Prese, we passed an unforgettable evening some years ago watching a gig of Miquel Abras, a Catalan rock star with a particular, hoarse and erotic voice. Take a smell of Miquel.
We leave the C 152, turning left and going towards el Mallol, a rural village with a beautiful historical center. All the itinerary is magical, lucky those who have a moto or a bicycle. The rest of us, let's open our car's windows to let the nature's odours and the sounds of birds and donkeys enter. Yes, in the Bass valley you 'll meet hundreds of donkeys, "rucs", as they call them there.
The next village is Sant Privat d´en Bas, a relatively hilly place with plenty of waterfalls. Take off your clothes and, if it is summer, swim in one of tenths of small lagoons you will find. I know, the water is cold, but it´s an uplifting experience to be there.
Parenthesis: The Bass Valley, one of the most beautiful areas ever seen, is in danger. The quite, rural reserve may disappear if the plans for a new motorway will go on.
From this page, we unite our voice with the locals, demanding the protection of the small rivers, the waterfalls and the forests found there and we apply to the authorities to stop the destroying policies against nature.
We leave Sant Privat d´en Bas, returning to Mallol. There, we turn left towards la Pinya, a very small village from where we can buy excellent local cold cuts at Can Gaburra. I forgot to tell you that Garrotxa is famous for the prime quality cold cuts produced there, which are exported all over the world. La secallona, a long and thin dry salami and the cap de llom, a cured fillet made of pork back, are my favourite ones.
At la Pinya we will also find the rural house Mas Garganta, where we can sleep in full nature. This rural house is not cheap, but is an alternative for those who do not want to stay at Olot. The town center is just 4 km away.
It´s time to head towards Olot, one of the most green cities ever seen. If you have not already booked an hotel, go straight to Hotel Borrell, we always stay there when we visit Garrotxa. It´s a very clean family hotel with a large private parking and situated right at the town center. Just ask at the reception for a room at the rear face of the hotel, in order not to be annoyed by the passing cars.
Olot has many many things to see and even more things to do.
Let´s start from the "green road Olot – Girona" (Via Verda). The "green roads" are a net of bicycle roads in Catalonia, which pass through forests and rural areas, giving us the possibility to have unique bicycle trips with safety as they are too narrow for cars. The Via Verda to Girona starts at the Saint Roc Fountain (just ask the locals for Avinguda Maria) and it's literally an experience which everybody has to live.
– Fuck off, old cook, where can I find a bike to cross this Via Verda? Tourists usually do not have bicycles. Are you kidding us?
– Cool, man. 100 meters from the Saint Roc Fountain at Avinguda Estació 3 you can find a Bicycle Rental Service, where you can choose between various types of bikes. I would suggest you to rent one, not only for this ride but for more, as Olot and its suburbs are a bikers' paradise.
And something more: At the site http://viesverdes.cat you can print the whole itinerary and also find out where to eat, drink, sleep, even where to f…….!!!!!!
There is no need to make the whole itinerary, because it will be quite difficult for you to go back to Olot, so after 5 – 10 km I suggest that you come return, you should be already exhausted.
Dinner time, hurray. If you don´t feel too tired, we have an excellent proposition for you, otherwise the Catalan fast food Vienna is a decent solution for a quick meal.
Some may think that, maybe, I am advertising Viena fast food. I tell them to get fucked.
The coffee at Viena is almost Italian, clearly the best available in town. The "a la minute" orange juice is excellent, made by first quality fresh fruits. The lightly sweet croissants are magnificent, sometimes Viena offers gratis a small one with each cup of coffee. The ambient unique, I don't know any other fast food, as beautiful as this.
Not to forget that the New York Times have declared the Viena sandwich with Iberian ham, as the best in the world. I don't agree, but, anyway, the sandwich is very very tasty, you have to try it.
Take a breath at the all green square in front of Viena and catch the Passeig Barcelona, a beautiful avenue with plane trees and a pedestrian zone in the middle. Turn left at the first road you will find (Av. Batlló) and arrive at the Espanya square.
You cannot imagine how well designed the whole district is. That's why I show you the map below. I admire the unique town planning, the old villas and mansions found there, the river Fluvià which separates the two large squares, the full of high trees roads. I love Olot.
Follow Avinguda Catalunya to arrive at Plaça Americà and then continue to the city's New Park. I find no words to describe this piece of nature.
High deciduous trees, flower gardens, small lagoons, ducks, swans and singing birds, people hanging around and children playing football. Have a look to discover how marvelous the town's Parc Nou (New Park) is.
In the middle of the park we find the Garrotxa Museum of Volcanos. Yes, Olot's bigger attraction are the ….. four volcanos found there.
The entrance fee for the museum is very cheap. Don't miss it. It has, among others, a simulation room, where you can feel with absolute safety, what happens when an earthquake occurs. Magnificent (even though, a little scary).
Take the first stop of the day and drink an Estrella (the most famous beer in Catalonia, with no particular taste) or eat a pa amb tomàquet. What? You don't know what pa amb tomàquet is?
Re-examined. You need a special lesson.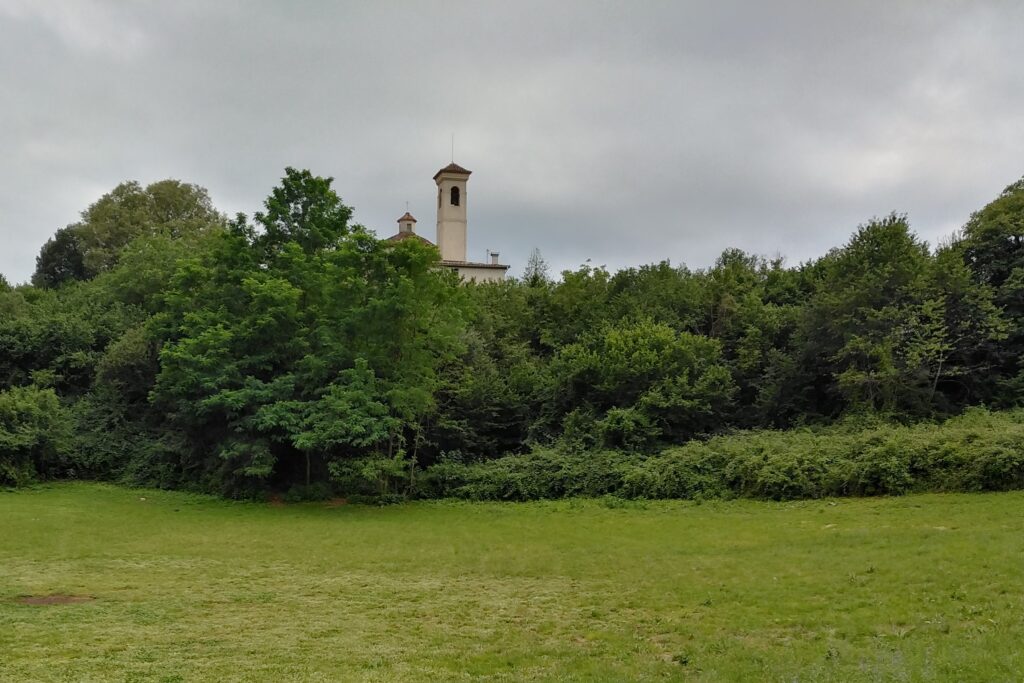 – Have you ever eaten a bruschetta? Did you like it? I imagine that yes.
I have a totally different opinion. I consider bruschetta one of the worst moments in Italian cuisine, although it is the best of the world. First of all, one cannot eat it without getting dirty. It is impossible. Second, I consider the quantity of tomato excessive. Too much humidity. Third, the Italians discard the tastiest part of the tomato, the jelly, and they only use the less tasty flesh.
– What the fuck are you talking about, our topic is not the bruschetta.
– Well, actually, I wanted to tell you that in Catalonia, we can eat a much better version of the combination bread – tomato. The "pa amb tomàquet", or simply, the bread with tomato. In the Catalan version of the snack the tomato is minimal, just as it needs to humidify and make the stale bread easy and pleasant to eat.
–And where can we eat "pa amb tomàquet" in Olot?
– Everywhere. In Olot there are very good restaurants, La Deu, La quinta justa, La barra d´ en Regué and, above all, the excellent restaurant "Ramon", one of the most particular restaurants ever seen.
Why? Because the raw materials of the resto have the personal care of the owner, Josep Maria.
Josep Maria goes to the forests to pick up wild mushrooms.
Josep Maria goes to the rivers to catch fish.
Josep Maria goes to the mountains to hunt wild animals.
And all these delicious things are cooked by Josep Maria's wife.
I'll never forget the "wild mushrooms with baby squids" or the "cod leeks with Santa Pau beans" that we ate there.
– By the way, what are these Santa Pau beans?
-I'll tell you. Catch your car and drive just 9 kilometres to Santa Pau, direction Banyoles. But, I´ m warning you, you re gonna need, at least half a day.
-Half a day for 9 kms? It must be a dirt road …….
– No, the road is perfect but you have to do three obligatory stops. First of all, you have to walk at "La fageda d´ en Jordà", Jordan´s beech forest, in English. La fageda is a magnificent place with many activities. There you can hire a horse carriage and cross the whole forest, like John Wayne did. And without the potential danger of being killed by bandits.
La fageda is very popular in Catalonia. Avoid going there during week ends, it´s extremely crowded and you'll loose the magic of calm and silence.
-What´s next?
– Two kilometres after la Fageda, you can find el Volcà de Santa Margarida (Sainte Margaret volcano). Leave your car at the parking, take your walking sticks and start climbing all the way to the top of the hill. It's an opportunity for you to loose some grams and limit your belly. If you know how to collect mushrooms, take a basket and a knife with you, the place is full of wild mushrooms.
Reaching the top of the hill you'll see something special. A small church is built at the old crater, which nowadays is green and beautiful. The perfect place to relax. Stay near the church, close your eyes and listen to thousands of birds and other forest sounds. I love Sainte Margaret volcano, I always go, when I visit Olot.
–I am still waiting for the beans.
-A couple of kilometres further you will find Santa Pau, a beautiful village, where they produce the best beans ever tasted. But Santa Pau is not only about beans, it is a very pleasant place to walk, to shop some souvenirs and to eat very well. I always love to try the products, where they are made.
So, Santa Pau beans are unique because of the volcanic soil where they are cultivated. They have a thin skin and a low percentage of starch, properties that give them a unique creamy texture and make them very easy to boil. When you visit the village, buy as much as you can (the organic ones are even better), you won´t regret it.
-I imagine that the Santa Pau beans are the culinary jewel of the district.
-Yeap. Actually, there is another specialty in the area, the Olot potatoes (les patates d´ Olot), potatoes stuffed with a meat mixture and then fried. It´s something like a fried raviolo of potatoes.
–You have not yet talked about them, I imagine you don´t like them a lot …..
– Well, I told you that I cannot realize how the Italians eat bruschette, an unfortunate concept. I have the same opinion about the Olot potatoes. I find no reason to fill the potatoes with meat and then fry them.
So, if you are hungry, omit patates d´ Olot and eat one more portion of the magnificent wild mushrooms of Garrotxa forest. Or some of its unique cold cuts. You'll miss them when you return home.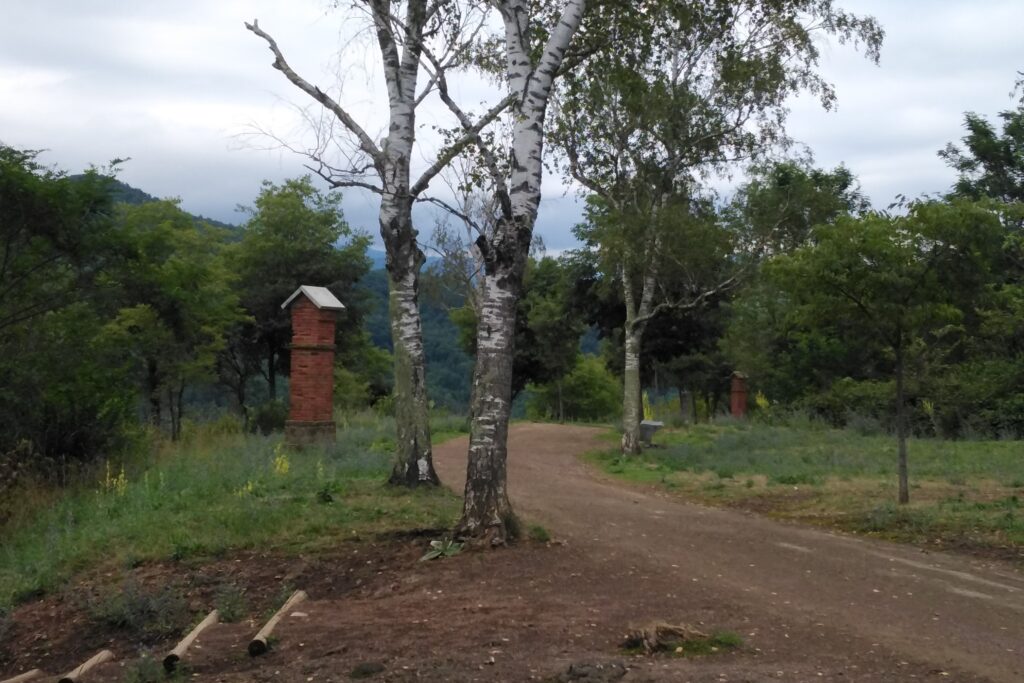 For the last day of our tour in Garrotxa we have left the route from Olot to Besalú. But, I forgot, we still have the visit at Montsacopa, the volcano in the city center, pending.
– What? Is there a volcano in the centre of Olot?
– Of course not. Actually, there are TWO volcanos in the center of Olot, el Montsacopa and la Garrinada.
– Aren´t they dangerous?
– Not at all, both volcanos "are sleeping" for hundreds of years. Don´t worry. Just catch your sticks and get ready for another walk.
We first drink a cup of coffee at Olot' s central square, which is not, actually, a square but a very wide road, the "passeig de l' escultor Blay", as it is called in Catalan. Don´t forget to visit la "Llibreria Drac", my favourite bookstore in Catalonia, where I have bought the majority of my books in Catalan and Spanish language. There, you can buy a district guide or photo album in any language, to remind you the days you will have passed in Garrotxa.
We keep on moving on this "wide road", which, as you will notice, becomes narrower after a while and changes its name twice, to "carrer Roser" initially and to "Camí Montsacopa" later. After a few difficult hundreds of meters, we reach the top of the hill, where the old crater is located. The view of the city is breath taking, the landscape is magnificent, the whole volcano is formed like an urban park. Do not forget your camera when you visit it, you will snap unforgettable photos.
Have you ever seen a village hanging on the edge of a cliff? It is world famous, there are photos of it on many calendars, along with Hallstatt, Annecy and other world characteristic places.
I am talking about Castellfollit de la Roca. This unique village is about 10 meters wide and no more than a kilometer long. I 've never seen a village, as strange as this. Just 50 meters below the village, the Fluvià River runs, while on its banks, a natural park lies. This is paradise!!!!
Castellfollit de la Roca has been formed by the superimposition of two lava flows. Leave your car at the beginning of the village and cross it on foot. When you leave the village, remember to make a stop at the bridge over the river, to snap more photos and videos.
– And where is this village? How can I reach it?
– It is practically an Olot suburb, just 8 km away from the center. You will find it on the road towards the last destination of our tour, Besalú.
Besalú is the most beautiful town of Garrotxa and one of the most beautiful in Catalonia. The entrance to the city is incredible, you have to cross a medieval bridge to reach its center. The town's castle and the monastery of Saint Peter are the its most famous attractions, but my suggestion is "El Rebost del Comtat de Besalú".
The "rebost", the pantry in English, is a permanent exhibition of the utensils used for the elaboration of traditional food products. You can also taste and buy local specialties there, such as the already mentioned famous Garrotxa cold cuts.
By the way, at Besalú there are very good restaurants and bars. I remember once, some years ago, we had been in Belgium for vacation. I adore Belgium but, unfortunately, not its food. After some days of great hunger, we decided to leave the country and head to Catalonia, because we were already "starving". So when we passed the Spanish border, we followed the road to Besalú, it is relatively close. We looked for a restaurant and found a good one, the "Oliveras", where with 15 Euros per person, we ate everything, but the cooks.
I decided to end our tour in Garrotxa with this memory as an epilogue. In Garrotxa you will see unique volcanic landscapes, walk in magnificent parks and forests and eat at excellent restaurants.
Garrotxa is a district which every man has to visit once in his life. I have been there, at least 10 times.