Florence´s center is super-beautiful (sorry for the verbal exaggeration but I could not emphasize the intensity of its beauty in a different way), yet very crowdy.
Il Duomo, la Piazza Signoria, la Piazza della Repubblica, il Ponte Vecchio etc are flooded daily by thousands of visitors, primarily Americans, Japanese and Chinese, who usually have their meals at the awful touristic restaurants found there. This happens everywhere, Florence couldn´t make an exception.
But apart from the gastronomic junk in Florence´s historic center, there are some diamonds, such as the cafés Gilli, Rivoire and Giubbe Rosse, where if you do not occupy a table, you can still enjoy your coffee for 1 euro and 30 cents, combining it with a wonderful "cornetto", as the croissant is called by the Italians.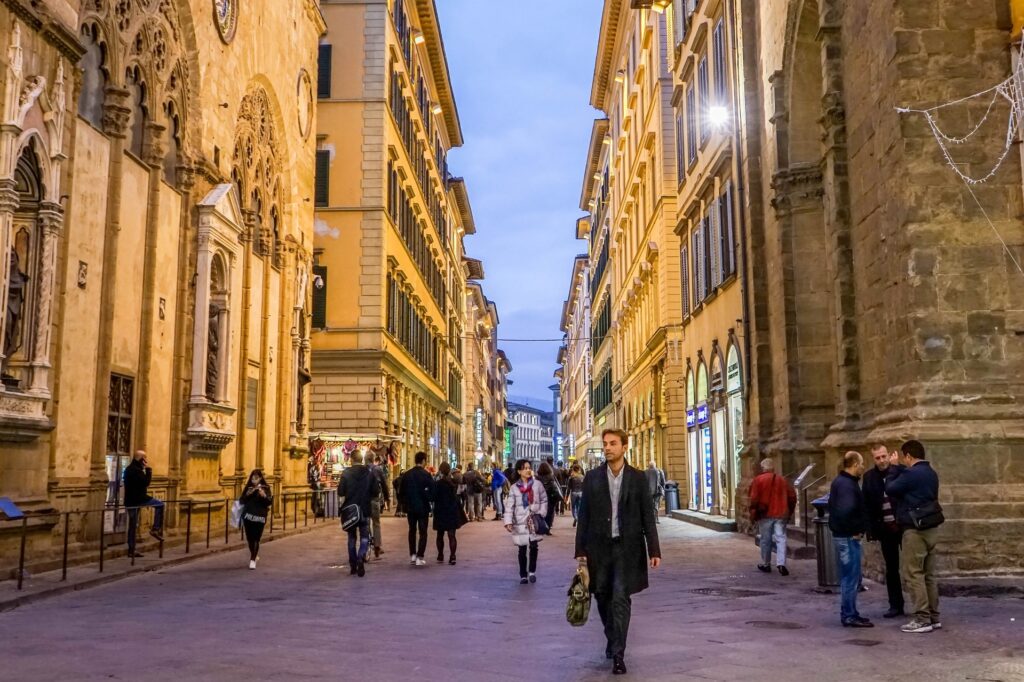 But no shop in Florence has the uniqueness of Fratellini, the ultimate sandwich shop, by far the best ever visited.
What is "Fratellini"? A tiny shop on a vertical of Via dei Calzaiuolli (Shoemaker´s street), the size of which does not exceed 8 square meters.
Yes, you read well. The size of the shop does not exceed 8 square meters, have a look at the main photo, if you don´t believe me. It is actually a hole in a building, 5 meters wide and 1 – 1.5 meters deep, which has a bar on the front. Behind the bar they are two standing guys, who may be brothers, as described by the shop name: I Fratellini – The little brothers, for non-Italian speaking people.
So, one "little brother" prepares with incredible speed and accuracy some 50 different sandwiches with hot bread (what the Italians call a rosette) and local cold cuts, cheeses and marinated vegetables and the other "little brother" serves in a glass any wine the consumer desires among some 100 Tuscan brands, well known all over the world for their high quality.

The shop is cheap and humble, and to this humility owes its success. Success? The word triumph is more adequate. Starting at 11 o clock in the morning and finishing at 6 in the afternoon, many hundreds of people pass by, to eat their panino and drink a glass of chianti, brunello or vino nobile.
At Fratellini we ate every, but every, BUT EVERY afternoon of our multiple stays in Florence. There, we have met many celebrities (once we drunk along with ……. Donald Sutherland), these celebrities also wait stoically in the line to get their glass of wine and their sandwich.
The owners of the shop are famous in Italy, the well known trade mark Sisley once had built its annual campaign around them. But the Fratellini, some of the last of the Mohicans in European culinary history are still there and they don´t leave their job, although they could do so, after so many years of great success.
These men prefer to spend their whole day upright, almost motionless in the tiny shop rather than selling their name to someone who could spoil it and erase the history they have written.
Yes, Fratellini are Democratic Gourmet´s heroes and we are so proud to communicate with the ones who prepare the best sandwiches in the world.